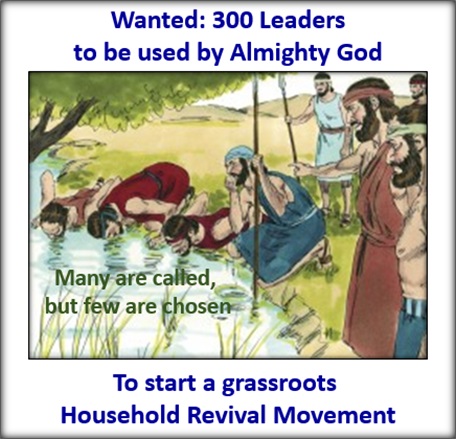 If you are concerned about the salvation of your family, declining moral trend, our nationís departure from God and erosion of our religious freedom, start a "Household Revival" in your home.
Please register, to let us know that you are willing to participate in this grassroots movement and are willing to be led by the Holy Spirit.
Registration is to identify like minded Christians who want to serve God and want to make a difference.
Basic beliefs:
Almighty God is the creator of heaven and earth
Jesus Christ is our Lord and Savior
No one goes to the Father except through Jesus
The bible is the inerrant word of God
Marriage is between one man and women
Abortion is ending a life God created
God must be honored and revered
Serve God by defending and expanding Christianity
America was founded on Christian principles
Our prayer is for bible believers to initiate a grassroots movement, to sow seeds for a Spiritual Awakening and to assume leadership roles in our society.
Procedure:
Register to be on the "FYI" and "Call to Action" Distribution List
Register here: www.RevivalSA.org
"Like us" on Revival San Antonio's Facebook: Revival SA
Start a "Household Revival" in your home
Encourage family and friends to start their own "Household Revival"
Be a "Crusaders for Christ Billboard Ministry" financial supporter and stakeholder
Financial donations are not required but would be helpful and appreciated.
One grain of sand alone cannot do much, but it can be an irritant in someoneís eye or millions gathered together can form a beach.
If it is from God, you will not be able to stop these men; you will only find yourselves fighting against God.
Acts 5:39